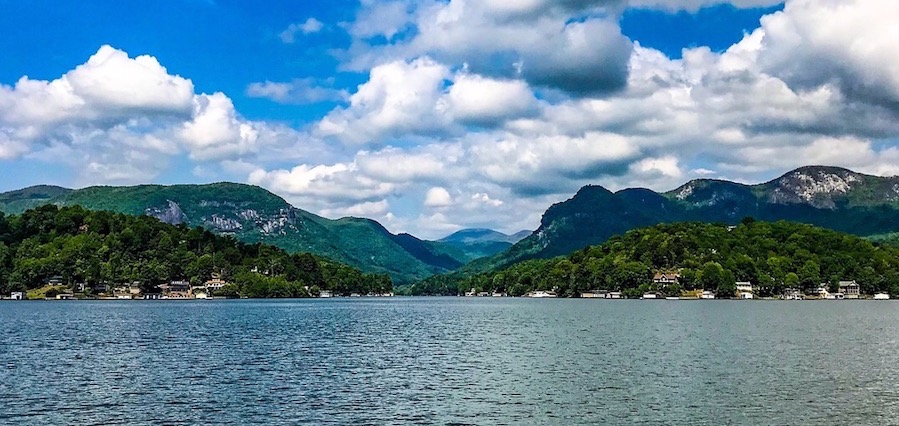 How big is the Lake Lure?
Approximately 720 acres, 27 miles of shoreline. Man-made lake.
How deep is the lake?
Max depth 104ft (near the dam).
What kind a fish are in the lake?
Both warm and cold-water species of fish inhabit Lake Lure, such as large mouth and small mouth bass, trout, bream/bluegills, crappie, perch,white bass, carp and several species of catfish.
What kind of boat can I have?
Pontoon boats and non-motorized vessels may be no longer than 28 feet.
All other boats, such as ski boats, fishing boats, deck boats, etc., may be no longer than 21 feet. Pontoon boat, canoe, kayak, rowing shell, row boat or any motorized craft that is longer than 28 feet.
Personal watercraft (jet skis) are prohibited.
Do I have to be a resident to get a boat slip?
Resident: Inside City Limits
Non Resident: Outside city limits or visitor
Annual boat slips at Washburn Marina are just $1,100 a year for property owners and $1,500 for non-residents.
What's the weather like?
Summer: Mid 80's -Mid 60's
Winter: Mid 50's to Mid 30's
Average annual rainfall: 55 inches
Average annual snowfall: 4 inches
Lake Lure Population: 1,200 In Season: 12,000
Lake Elevation: 990ft

Grocery Store/Market:
Ingles-Highway 9, Lake Lure
Apple Valley Market-Buffalo Creek Road, Lake Lure
Lake Lure Landing Convenience Store-Downtown Lake Lure
Closest Hospitals:
Mission-Asheville
Rutherford Regional-Rutherfordton
Pardee-Hendersonville
St. Luke's-Columbus
Lake Lure Boating Rules: CLICK HERE
Boat Permit Application: CLICK HERE
Boating Permit Fee Schedule: CLICK HERE
NC Fishing License Information: CLICK HERE
Source: Town of Lake Lure.com and North Carolina Wildlife Resources Commission as of 17 May 2018. Terms and conditions are subject to change.
Disclaimer: This is not the official Town of Lake Lure, NC website. Other websites, blogs, or pages like this on the internet may reference town programs, individuals, or facilities. Those websites (including this one), blogs, or pages are not Town sanctioned and as such, the Town of Lake Lure has no control of, and is not responsible for, their content.